Well, I'm here and I'm going to TRY to blog a little more than I have been... Life has been hectic (to say the least) for the past few months and I've been very negligent in my blogging... In November, I decided to start selling my crocheted creations and joined Stampin' Up (the starter kit deal was too good to pass up!). December was spent going from one doctor's appointment to another NST to another ultrasound awaiting the arrival of my sweet little baby boy, Declan and trying not to have panic attacks when he didn't move as much as I thought he should and when I started doing all the preparing I had been putting off for months "just in case". On January 2nd, my sweet little boy arrived kicking and screaming and alive and my heart healed just that little bit more.
He looks just like Kaelen did and it still gets me once in awhile when I look at him and see my son that never came home... I think how he should be Kaelen but he's not... it's hard to reconcile the two of them as separate but a part of each other because if not for one, the other wouldn't exist...
I'm trying to get back into life... I'm trying to be a person again... I spent all of 2010 waiting and anticipating and now, I'm just being. Being a mom to 3 beautiful children, 2 living, a wife to a husband who is away 2 weeks of every 3, and finding my niche in the world with my hobbies - photography, crochet and scrapbooking/cardmaking. I'm also a horrible cook... okay, not horrible... just not very creative... I make a killer Kraft Dinner and hot dogs but really that's as far as my repertoire goes... lol
So on that topic, I've decided to work my way through my favourite cookbook "Cooking for the Rushed"... I always have a heck of a time deciding which recipe to make so I'm starting at the beginning and going to work to the end and then I'll have marked which recipes I like and which I don't to use again later... I need to start eating healthier and making healthier food for my kids. KD and hot dogs just doesn't cut it all the time and with my husband being out of town so much for work (he's the cook in our family) I have to learn to figure it out. So here's my first creation from the cookbook: Teriyaki (not-so) Chicken Toss with Spaghettini Pasta (not-so because I procrastinated and my chicken went bad and I had to use beef).
I was going to take a picture of it on an actual plate and all that... but I forgot and had already half-eaten the plate when I remembered... lol... So a picture of the leftovers is what you get... lol...
We also used our woven wraps again today... I'm a confirmed baby carrier-aholic and have at least 30 carriers so I figure I might as well use them. Today's wrap was Kaelen's Zara Forest 4.2m wrap. I won it a month or two before Kaelen was born (from
Bebewearing Mamas
) and it started my woven wrap obsession... I wasn't sure we'd be able to do a Front Wrap Cross Carry in it because I'm not tiny and really have never measured it to see how long it actually is. I was tying in the tails but it worked and was comfortable so I can't complain.
We did some laundry, washed dishes and made our nummy supper all snuggled up together. He even helped me check out facebook and revamp this blog...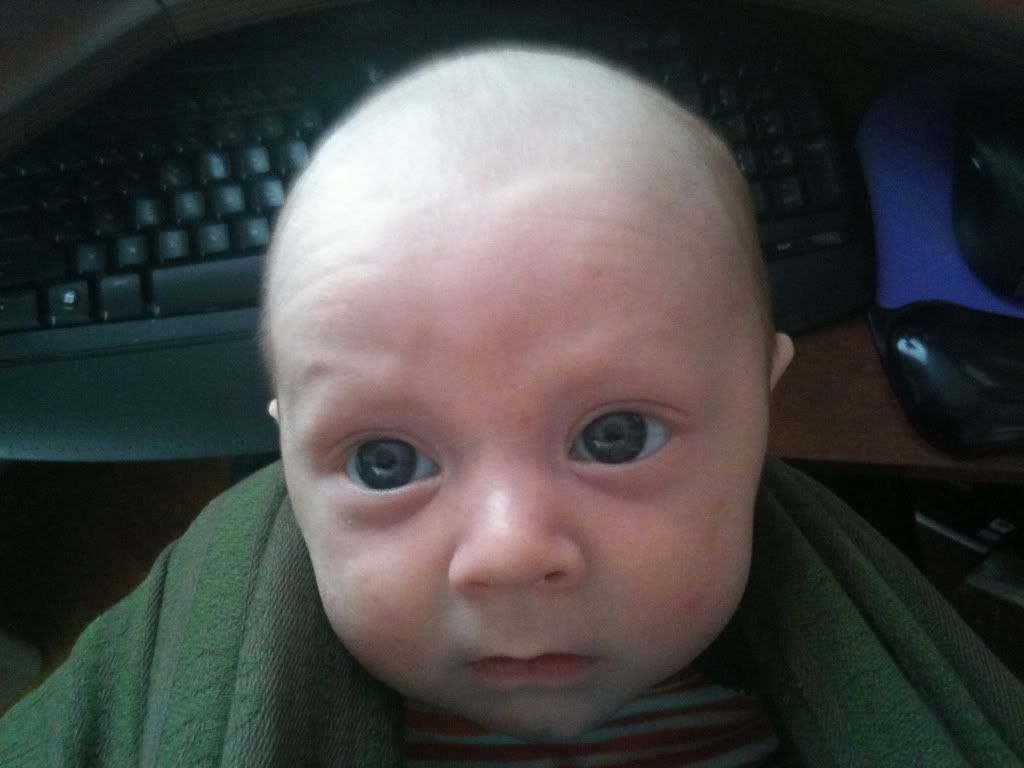 Ain't he cute?
Well, he's yibbling and Marrah is overdue for bedtime so I'm signing off... Bye for now!